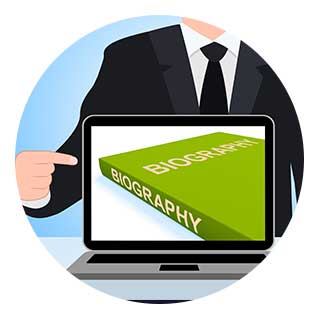 In a recent study on how law firms use their websites in marketing their business, LexisNexis Martindale-Hubbell found that the most popular page on a firm's site is the biography page. It's a fact: 85% of site visitors will spend time reviewing an attorney's bio. Clearly, the biography plays a critical role in your legal marketing program. And a thoughtful, well-written biography can be a real marketing asset.
What does a well-written estate planning attorney's biography look like? Well, it doesn't look like a resume, a CV, or a list of bulleted achievements. For many areas of legal practice, a bio that simply covers education, licensure and professional accomplishments may be suitable and quite enough.
For the estate planning attorney, however, the bio needs to say more.

Clients are typically sharing with you more than just financials. It may well include sensitive, personal details concerning health matters, family issues, their hopes, fears, etc. That makes the relationship closer, more personal than many client/attorney relationships. In addition to attorney, your role may often be one of a counselor, a confidante, a trusted advisor. With this in mind, your biography needs to reflect and communicate that very personal dimension of your work and what you have to offer. For you, a successful biography is much more about telling a story than listing facts.
Some bio questions worth asking and answering include:
What inspired you to pursue a career in

estate planning

?
What excites you about each day?
How do you guide your clients from the need to a solution?
You'll be amazed at what a difference a well-written biography can make. Case in point: I recently worked with a WealthCounsel member, helping him to create a fresh, updated biography. A few weeks after posting the new bio on his website the member was contacted by a financial advisor. The advisor told him someone had mentioned the member's name at a business event, so he went to the attorney's website to research him more carefully. Impressed by what he read in the biography, the advisor felt confident that this was the kind of estate planning attorney his clients would appreciate and want to work with. He was calling to arrange a meeting to discuss referral business and possible seminar partnering opportunities.

WealthCounsel provides a variety of practice building resources and support to help you create a solid legal marketing program for your business. This includes a bio development worksheet to help you craft a biography that tells your story well and connects with your ideal client. If you've got a story worth telling – and of course, you do – WealthCounsel can help.