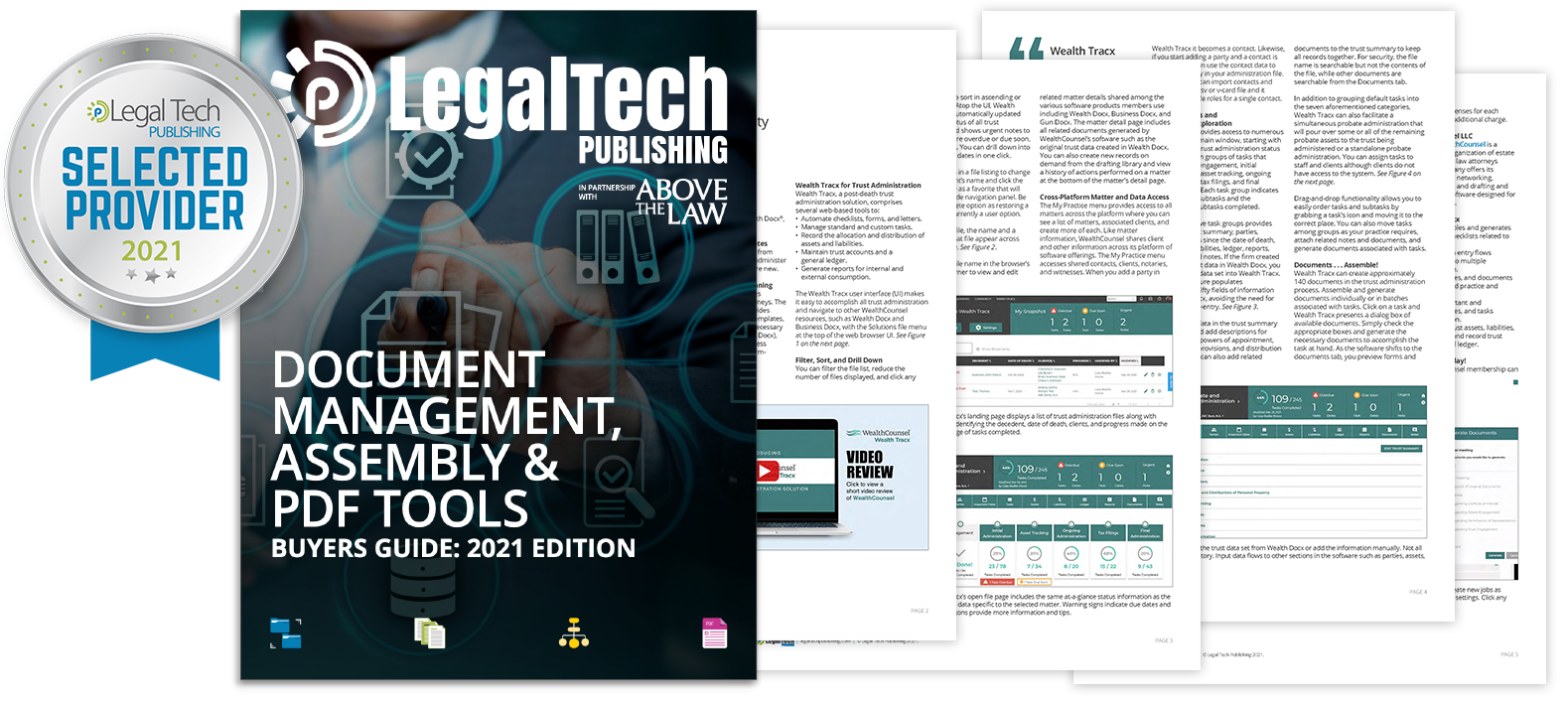 We are excited and honored to announce our participation in the 2021 Document Management Buyers Guide! The e-book, released by Legal Tech Publishing, spotlights innovative legal technology products for attorneys.
WealthCounsel Featured as a Premier Provider
WealthCounsel's Wealth Tracx® has been recognized in Legal Tech Publishing's annual Buyers Guide series. The 2021 Buyer's Guide is curated by Editor in Chief Brett Burney and Co-Founder Chelsey Lambert and provides attorneys with a collection of product reviews and supporting articles to aid in the legal technology selection process.
Jennifer Davenport, VP, Software Solutions and Editor in Chief at WealthCounsel, has this to say about being featured: "We were pleased to demonstrate Wealth Tracx, WealthCounsel's new trust administration solution, as part of an independent product review. With no solutions like it on the market, we created Wealth Tracx to fill a gap in the legal tech industry. It was designed and created by attorneys with trust administration experience in partnership with software developers, which uniquely positions Wealth Tracx to streamline the trust administration process while reducing human error that can be associated with this task-heavy practice area. Since its release just last year, Wealth Tracx has made a positive impact for hundreds of WealthCounsel member attorneys, and we are excited for the broader legal community to learn about this new and valuable tool available to attorneys practicing trust administration."
The release of the e-book coincides with the growing interest by attorneys in the use and adoption of technology to streamline workflow processes associated with trust administration, including document creation, report generation, client communication, and asset management.
WealthCounsel is dedicated to education and supports access to third-party opinions that explain the impacts of solutions in the marketplace. By supporting the Legal Tech Publishing e-book series, we support our community of fellow providers; together, we can provide attorneys with a succinct list of reputable and vetted products for their consideration.
An excerpt from our review:
The Wealth Tracx user interface makes it easy to accomplish all trust administration . . . facilitate a simultaneous probate administration . . assign tasks to staff and clients . . . assemble or generate documents individually or in batches . . . manage and record trust and nontrust assets . . . keep accounts balanced in a general ledger . . . and customize settings for dates, tasks, and documents.
We encourage you to read our product review excerpt here. If you would like to receive additional resources on legal news and education, subscribe to the WealthCounsel Quarterly, a legal magazine for estate and business planners, and to the WealthCounsel blog.