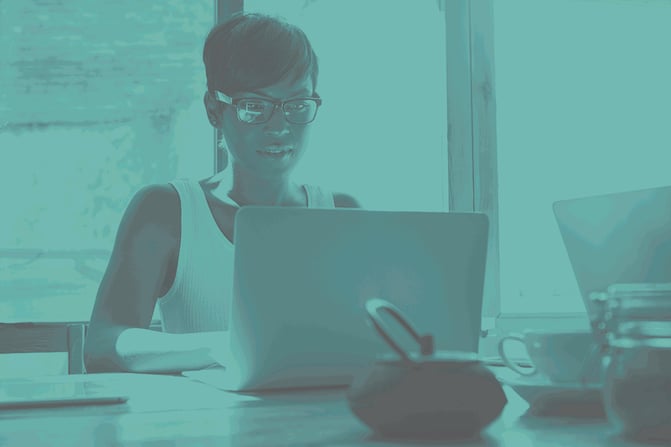 Thanks to advances in technology, working virtually has become a reality for many small practices and solo attorneys. Whether working from a home office, coworking space, or hotel room, many attorneys are embracing technology and ditching the traditional law office space for a completely web-based one. This style of working can have many benefits, such as: an increase in productivity, a more attainable work-life balance, and the ability to target clients in an ever-expanding mobile world. But, it can have it drawbacks, too.
With the right technology and business plan, any attorney can take their practice virtual. The question becomes: Is it right for you?
What a virtual law office looks like:
Working from home. Running your practice out of your home. Attorneys can designate a room for an office and can also work on-the-go while traveling.
Working from a coworking space. This option provides you a physical space outside of your home where you can meet with clients and other professionals. Coworking spaces are office rooms rented out to businesses (often contractors) that share a communal space.
Hybrid. Attorneys who are nervous about moving their practice to be completely web-based, can instead keep their traditional office but opt to add a virtual component to their practice.
---
The Pros
Wider client base - Since virtual practices are web-based, they are no longer limited by the geographic location of their office. Instead of coming to the office, meetings with clients can take place via video conference tools, such as Skype, Facetime, and Zoom. Virtual firms can then be marketed more broadly, bringing in clients from other jurisdictions, as well as appealing to younger and more tech savvy clientele. Additionally, eliminating a geographic barrier allows a practice to expand their talent pool and hire the best staff possible.
Lower monthly overhead - There are many cost benefits for going virtual. Working from home means no money spent on renting and furnishing office space, as well as not being tied to cumbersome service and rental contracts. Switching to a virtual system effectively means going paperless, so less money is spent on acquiring, creating, and storing paper files. Also since documents can be retrieved with the click of a mouse, attorneys save precious time not having to search high and low for misplaced files. Not only does a lower overhead mean more profit over time, but it also puts less stress on fledgling practices to be immediately successful.
Better security - When it comes to protecting sensitive client information, legal technologies (like practice management and drafting softwares) that utilize the cloud are often better at mitigating cybersecurity risks then more traditional methods (like keeping paper files in your office for other clients and cleaning staff to see). Instead, data is often safeguarded behind a gated, password protected portal and is stored on high-security servers that are encrypted. And since IT infrastructure is transferred to a provider on the cloud, attorneys can focus more on their legal practice rather than maintaining their IT system.
More flexibility & better work/life balance - Working from home means attorneys can obtain more flexibility over the hours they work—taking breaks to meet a repairman, watch over younger children, and go for a spontaneous hike on a blissfully sunny day. Also, attorneys can use the time they would have spent commuting to the office, to instead spend with their family and be more productive at work.
The Cons
Trouble delineating between work and personal space - If working from home, lines can be blurred between personal and work space. And since a virtual attorney can effectively take their office wherever they go, carving out personal time to recharge can be a challenge.
Lacking the human touch - In a true virtual practice where services are delivered from start to finish online, the inherent impersonal interactions that the internet fosters may make it more difficult to establish trust and thus develop deeper relationships with clients. Virtual attorneys will need to work harder at building these relationships and ensuring that communications are smooth.
Legal issues - Attorneys should be aware of their respective state bar's rules concerning virtual practices. Some state bars require attorneys to have a physical office space to meet clients and be contacted by the courts. Additionally, some states advertising rules require virtual attorneys to add disclaimers if they do not have a traditional office space. Attorneys can also run into jurisdiction issues if they provide legal assistance to a client in a state where the attorney is not licensed.
---
Wealth Docx® can follow your practice, wherever it goes. Based in the cloud, you can access your legal documents from any device, at any time—making collaboration a breeze. For solo attorneys, WealthCounsel provides the support of a larger firm: get your legal education, news, practice development and professional network all from the comfort of your home or office.