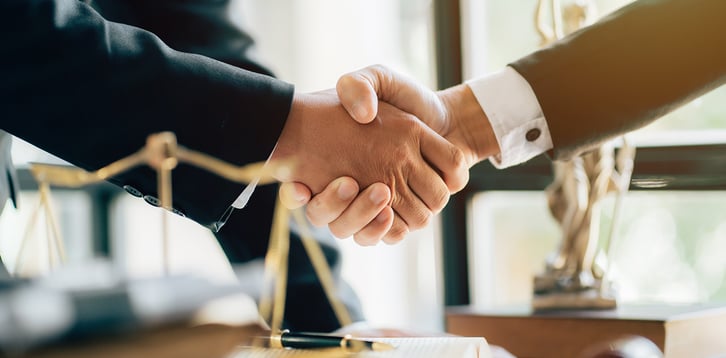 A surprising result of the COVID-19 pandemic has been a surge in the formation of new businesses. New entities shop for legal services in the same way that they do for information technology, video production, and digital marketing services: they look for the best fit for the size and scope of their business. Because many small businesses cannot afford to hire a full-time attorney, you can serve as outside general counsel to more than one company and provide the legal assistance they will need to stay afloat. Read on to learn how to gain new clients and share your business law expertise as an outside general counsel.
What Is an Outside General Counsel?
An outside general counsel is an attorney hired by a business to manage their legal issues on an as-needed basis. As an outside general counsel, you can help a new business get set up with the proper formation documents. Going forward, you can serve them on a fractional basis by meeting their business law needs in the following ways:
Drafting contracts
Maximizing protection for intellectual property
Ensuring

regulatory compliance

Settling employment disputes
You can charge these clients on an hourly basis, by the project, or on retainer. In addition to providing legal counsel, you can also serve as a business advisor, which will be especially helpful to new entrepreneurs.
What Do Companies Need from an Outside General Counsel?
To attract and retain clients as an outside general counsel, you need to let them know that you can offer them the following essential skills:
Experience in business law
Ability to explain legal concepts in plain English
Willingness to learn about the client's business and give common-sense advice
Knowledge of

business formation

, contracts, and

succession planning

Management of risk according to the comfort level of the client
Ability to keep the client away from violations of contract, employment, and antitrust laws
New small businesses fail at an alarming rate, so business owners may rely on legal counsel to help maintain their business operations and be a trusted and experienced advisor.
How Can I Position Myself as Outside General Counsel?
Fortunately, you can serve as outside general counsel for as many clients as you can fit into your schedule. Some clients may bring you steady work, while others may only call you once or twice a year. While word of mouth is always effective, you can advertise your expertise as an outside general counsel in the following ways:
Put a dedicated landing page on your website promoting your skill as an outside general counsel
Add keywords to your LinkedIn profile
Establish yourself as a thought leader with blog posts promoted through your social media
Optimize your website and blog posts for search engines with local keywords such as "outside general counsel in (your city or state)"
Join local business and entrepreneur groups and give talks on business law topics
Drafting Business Documents for New Clients
As your portfolio of business clients grows, you can use WealthCounsel's Business Docx® solution to draft and organize business startup, planning, and succession documents. Because it is cloud-based, Business Docx is perfectly suited for a lean operation. To learn more about Business Docx, click here.