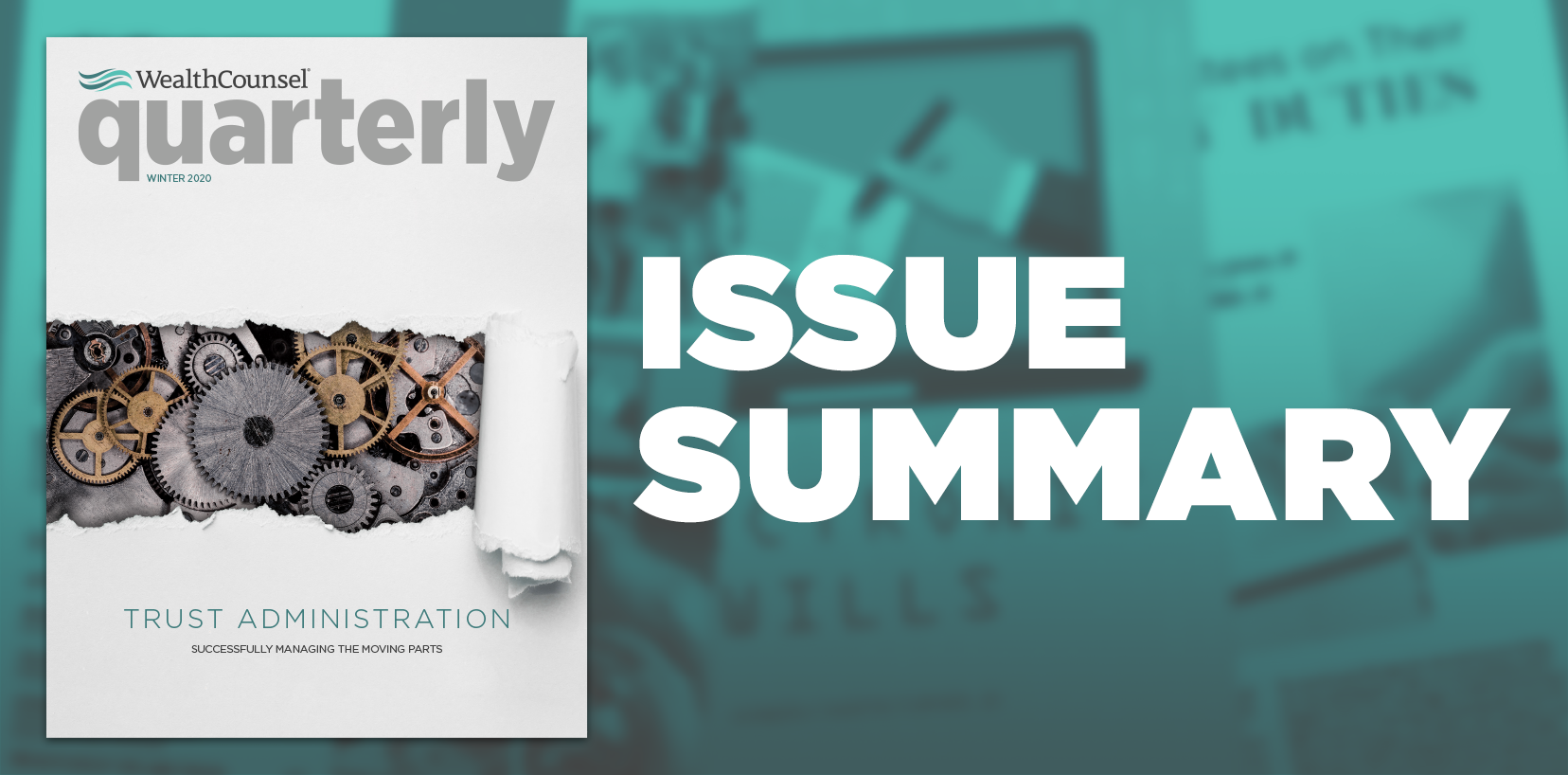 The Quarterly—WealthCounsel's legal magazine for estate planning and business law attorneys—2020 winter issue is here! This issue focuses on trust administration—a logical and complementary service to add to any estate planning practice. Full of informative articles, this issue offers practical insights for estate planning attorneys either already administering trusts or wishing to expand the scope of their practice to include trust administration.
Counseling Trustees on Their Fiduciary Duties
It's common for individuals in the trustee role who need substantial guidance to properly fulfill their legal and fiduciary responsibilities. This issue of the Quarterly highlights essential information attorneys should provide to trustee clients to educate them about the fiduciary duties they owe to the beneficiaries of the trust. It also addresses crucial factors trustees should consider before making final distributions to trust beneficiaries.
Administering Irrevocable Trusts in Elder Law
This issue of the Quarterly includes an article on the unique considerations for the administration of trusts designed for elder law clients—including administration considerations during a grantor's lifetime (like distributions to lifetime beneficiaries and Medicaid eligibility) as well as administration considerations upon the death of the grantor (such as SNT provisions, estate recovery, waiting periods, and accumulation trust provisions).
Become a Quarterly subscriber today, to receive your free digital edition of WealthCounsel's legal magazine.
Uniform Electronic Wills Act
This issue also includes an article discussing important recent developments in estate planning: the finalization of the Uniform Electronic Will Act and similar "e-wills" legislation already enacted in a handful of states. Although only a few states have enacted e-wills statutes so far, the trend towards increasing digitalization is clear and going forward, it will be crucial for estate planners to understand the requirements for validity, the benefits, and the potential pitfalls of E-wills.