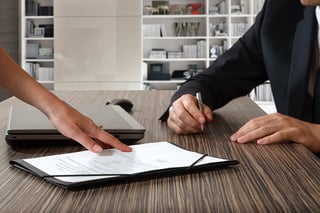 Today's attorneys face a number of challenges that require a fresh approach to estate planning. Trying to balance the need for time-saving, automated processes while also growing a client base leaves many attorneys stuck in the middle — unsure whether to prioritize productivity or client relationships. There's good news: you can maximize both efficiency and client satisfaction. You can better tailor estate planning services to your clients and improve practice efficiency by knowing your audience and making use of online tools.
1. Take advantage of document-generation software
The first thing to consider is how to increase productivity. The old adage says "time is money," and this is more true than ever before in the legal industry. With document drafting software, attorneys can readily access customizable templates designed to streamline the estate planning process. Whether you're looking to create a pour-over will, a revocable living trust, or medical directives, document drafting software helps improve your document-generation process and decrease drafting errors. These time-saving features free up space in your day to nurture relationships with existing clients and explore opportunities for expanding service offerings.
2. Revise your billing options
When comparing the hourly cost of an attorney against the affordability of a click-and-print document found online, budget-conscious consumers might be a hard sell. Because document drafting software saves time, you can save your clients money by offering some services at a flat rate. After an initial consultation, provide a flat rate quote tailored to your client's needs. Another option is to provide a tiered list of packages so clients, depending on their needs and budget, can pick and choose options right for them. Remember, a reasonable and flexible fee structure is always a solid selling point for your firm.
3. Consider all demographics
Over the last several years, drastic changes at the federal level have removed tax benefits as a primary motivator for many people. This means a good number of your clients will be baby boomers with modest estates who are primarily interested in using an estate plan to manage and distribute assets. But remember, they are not the only demographic looking for estate planning services.
Millennials and Gen-Xers will inherit close to $30 trillion from baby boomers over the course of several decades. This is a valuable market to tap into, and soon millennials will be turning to estate planning to plan for their futures.
It's important to communicate to this demographic the importance of estate planning and preparing for the future. Be sure to utilize the correct channels for this messaging, and rethink how digital communication, such as social media and teleconferencing, can help capture younger demographics.
4. Tailor your marketing
Digital marketing efforts are important, but don't discount the value of paper marketing. Particularly for baby boomers, a printed brochure or quarterly newsletter might stand out from an inbox teeming with marketing emails. Taking the time to write a thank-you note to show your appreciation for a client can leave a lasting impression. The simplest of notes can be particularly helpful in securing your clients' repeat business and generating new business through positive word-of-mouth.
Each of these tips will help you improve and expand your practice. Download WealthCounsel's "What's New in Wealth Docx® online" to see how automated document drafting can also play a role.