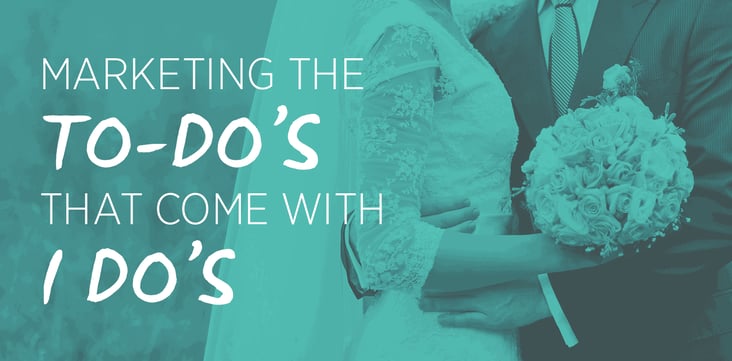 Newlyweds have a lot on their plate. With all the pre and post wedding activities and acclimatizing to married life, it's no wonder that estate planning is often a low priority for newlyweds. As estate planners, we know that marriage signifies a major lifetime event, which requires the creation of a new estate plan, or updates to an existing one. In order to capture the attention of the newlywed demographic, it's crucial to create a sense of urgency around your service offerings.
Potential clients are most often lost due to their own mental friction—agonizing over something until it is utterly forgotten. Urgency is an important conversation tool in marketing, where trigger words and phrases (act fast, limited time only, buy now, etc.) compel a consumer to suspend caution and act quickly. Estate planners can capitalize on this tactic by creating this sense of urgency both within how they discuss and promote their services.
Creating urgency in how you talk about your service offerings
Estate planning is not a sexy or romantic topic. The last thing newlyweds want to think about is the death or incapacity of their new spouse. However, whether it's paying taxes, going to the dentist or cleaning your house—people do things all the time out of necessity, rather than pleasure. By creating a sense of urgency within your estate planning discourse, an estate plan becomes a necessity rather than an unpleasant activity to avoid.
By definition, urgency is the correlation between importance and swift action. You can create this by emphasizing the importance of your service against the catastrophic results of inaction. For example, we know the potential ramifications of not having a will, financial power of attorney, or advance directive for healthcare can be serious for new couples. Communicate these issues and the need for immediate action with phrases like:
Don't delay

It's now or never

Before it's too late
Creating urgency in how you promote your services
With the average cost of a wedding at $33,000, it's not surprising that 74% of couples take on debt to get married. With an already shallow wallet, entice newlyweds with time-sensitive discounts (offers only available for a specific amount of time) and limited supply deals (offers only available for a specific amount of people).
Choosing how to articulate your offerings should reflect what motivates your prospective clients. Psychologically, people are hardwired to both avoid pain and seek pleasure (psychologists refer to this as Loss Aversion and the Pleasure Principle). So, a deal that says "Newlyweds Save 20%" emphasizes the avoidance of a loss, while a deal that says "Newlyweds Get $150 Off" emphasizes achieving a gain.
When deciding what type of deal to use and how to articulate it, first consider what will best motivate your ideal clientele. Then, mix it up! If one method doesn't work, try another. If it doesn't work during a specific time of year, then consider using it later down the road. Marketing is, after all, one-part science, one-part creative guess-work.
---
We know that you didn't go to law school to become an expert in marketing. That's why there's WealthCounsel. If you'd like to learn how WealthCounsel can grow your practice and help you better serve your clients, schedule a software demo today. Discuss pricing and other potential member benefits with one of our experts now.