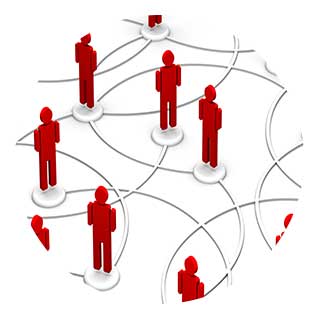 In an earlier blog, I reviewed the advantages of a strong referral network (CPAs, financial advisors, etc.) and how to make the most of this valuable resource for effective legal practice building.

In this post, I'd like to "reverse field" for a moment and share some thoughts on how a partnership with you can add real value to a referral resource's business.

When seeking new referral source relationships, the question of reciprocity is a common one: "Will you, in turn, refer clients to me?" It's a fair question and deserves a fair response. Because many of the clients an Estate Planning Attorney receives, already have a relationship with a Financial Advisor or CPA, is is very difficult for the attorney to reciprocate referrals. However, the question the referral source is really asking is: "What's the advantage to my business?" Or simply put, "What's in it for me?" To that basic question, your response can be "Quite a bit, actually."
Let's review a few of the benefits you bring to the table.

A partnership with you can expand the Advisor's "Circle of Influence" with their clients. An expanded Circle of Influence leads to enhanced client trust. Trust is a valuable commodity. Clients who trust their Financial Advisors entrust more business with their advisors and are more inclined to refer their family, friends or associates to that advisor.

A relationship with you may generate additional Assets Under Management (AUM) for the Advisor. Through your estate planning process, you may well uncover unmanaged or under-managed assets. Additional product placement opportunities may arise through the estate planning process, as well. And when legal issues arise, the Advisor now has a legal resource to turn to for guidance and, when necessary, you can assist referrals to attorneys in other practice areas (Tax, Divorce, Real Estate, etc.).

To ensure a successful partnership with your referral network, an open, collaborative approach is key. Be sure the Advisor understands that he or she is the lead (or Quarterback) and you are there to offer estate planning support. Early in the relationship, make it clear to the advisor that you prefer the Initial Client Meetings are conducted at the Advisor's office. This will not only make the client feel more comfortable and receptive, it will also keep the Advisor included in the process, thus reinforcing the collaborative-based model you're working to establish.

Take the time to educate your referral network on the full spectrum of estate planning issues (Asset Protection Planning, IRA trusts, Special Needs Planning, etc.). Teaching your referral sources to "issue spot" will make them more profitable referral partners. Keep them informed on any changes in the law or court decisions. (Last year's Clark v. Rameker was a good example of a decision that affected IRA planning and, in turn, impacted Financial Advisors and their clients.) Finally, be a source of seminar content. As a guest speaker, you'll be enhancing your collaborative relationship with the advisor and at the same time creating the opportunity for new clients of your own.

A successful, collaborative partnership – it works. For you, for your referral source and, last but not least, for your client. Learn more about how WealthCounsel's Practice Development resources to help you create valuable referral relationships and accelerate your legal marketing efforts.