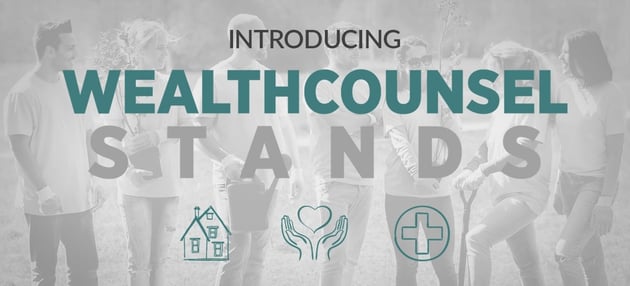 Crafting lasting legacies is what estate planning is all about. At WealthCounsel, we help attorneys draft legacies to have a steadfast, positive impact on their clients and their clients' loved ones. But legacies aren't just legal papers dictating the transfer of assets. At their root, they are the means by which we pass on our stories and take care of our families.
Our communities are an extension of our families. As a company dedicated to crafting legacies, we are excited to announce our new endeavor to help our communities craft their own legacies of compassion through our new philanthropic program, WealthCounsel Stands.
"This is an organic extension of our beliefs as a company because WealthCounsel has always been about serving our members as they serve their clients. WealthCounsel members build legacies for their clients every single day, and we look forward to building legacies and serving in our own communities through WealthCounsel Stands." - John Doyle, CFO of WealthCounsel
In helping build communal legacies, WealthCounsel Stands will be working with local and national charities each month. Our team of volunteers will provide direct support on various projects, as well as contribute indirectly through donations and advocacy. Click here to learn more about the WealthCounsel Stands program.
What's happening this month
Serving American families is at the core of what we do. This month, we've decided to work with two charities who are dedicated to the care and support of families in need: The Ronald McDonald House and The Road Home.
April's Charities
The Ronald McDonald House (RMDH) provides no-cost housing to families with ill children, who often have to commute long distances for healthcare treatment. By keeping families together, without worrying where they can rest their heads at night, families can focus on what's important—their child's health.
Visit RMDH's website to learn how you can help.
The Road Home is a private nonprofit located in Salt Lake County. By providing emergency housing and shelter, emergency services and case management, they aim to help individuals and families along the Wasatch Front overcome homelessness.
Visit The Road Home's website to learn how you can help.
April's Service
During this month, WealthCounsel Stands will be participating in community service by donating a portion of April proceeds to The Road Home, as well as provide volunteers from WealthCounsel's home office in Draper, UT, for a three-hour service project with the Ronald McDonald House.
WealthCounsel is also supporting a local artist, community service advocate, and TACA volunteer, Michelle S. Burt, and will be raffling a commissioned painting by her to a lucky WealthCounsel member joining in April. Learn more here.
How Wealth Docx® can meet your clients' charitable goals
Wealth Docx is the premier tool for drafting estate planning documents. Utilize the Wealth Docx charitable contributions feature to efficiently draft:
Gift annuity agreements
Life estate reserved deeds
Charitable Remainder Trusts
Charitable Lead Trusts
Private foundations
Link your client management software, like Clio, with Wealth Docx and automatically populate your documents with your clients' information. With internal updates, attorneys can draft confidently knowing all their documents will be accurate and up-to-date. Learn more by visiting our website and scheduling a software demo.